What do the Start uppers tell us about the future of Exhibition industry? What type of clients are they for Trade shows organizers? Are trade shows key elements in their innovation process?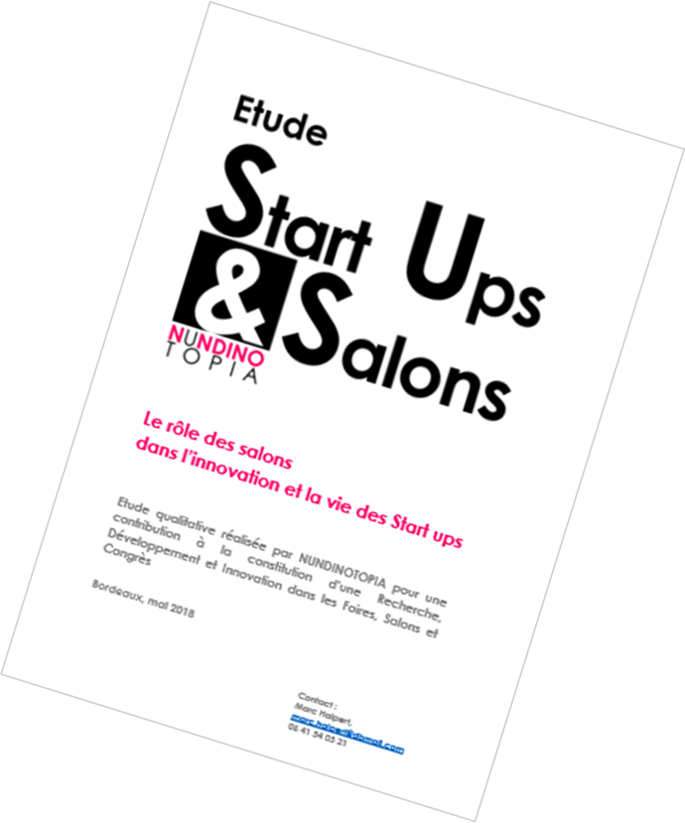 NUNDINOTOPIA published recently a qualitative marketing research study on "the Role of Trade shows in Start ups Innovation and life processes", based on 20 interviews with start uppers. This study takes place in the global Nundinotopia's project to contribute to a Research Development and Innovation in the Exhibition and Conference industry. The report is freely available, but unfortunately in French only. So, you can find here, in English, the key-learnings. The study could be useful for Trade shows professionals, start uppers and perhaps also for Research and Innovation players.
STUDY REPORT (French version only)
DOWNLOAD (FREE) BELOW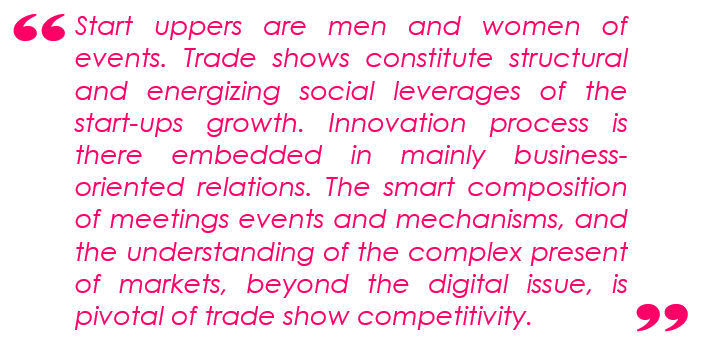 No magic

. First of all, Start-ups form a heterogeneous reality of pragmatical and fighting entrepreneurs. Start uppers are not magician and they do not take any position as such. Then it is useless asking them to do any magic tricks for trade shows and their future.

Start-ups culture is not far away from trade shows culture:

small enterprises, multiple trades, diversity of markets, empiricism, sense of the collective, association through affinities, engagement, orality and importance of physical meeting, nomadism.

Trade shows are essential to Start ups life.

Start uppers have a quasi-systematic practice of trade shows and others events. Trade shows are for them "social UP" machines, necessary for their growth. For a part of them, event market is also a target for their business.

Business first.

The Start uppers think clear on their objectives. They want to come into the ecosystem of the market here represented by the trade show and to emerge from it. The four main objectives: to sell; to network and to belong to the ecosystem; to get media and social media impact; to cultivate market and competitive intelligence.

The Start-up Innovation process takes place only tacitly and embedded in business relations.

Innovation is not an objective. But some of the start-up experience on trade show could match with two phases of innovation: invention and concept adjustments; dissemination and adoption of the solution in the social milieu. If trade shows have always been

exhibiting spaces of Innovation, they have now to contribute more formally to the socializing process of Innovators.

Start uppers don't act on trade shows as new born

. If price of booth is a drag for them, they pass it by and participate thanks to a large range of other ways (being speakers, visitors, invited, partnership, collective booth). They can eventually break the codes, but superficially: above all, matter for them the trade show as a point of reference in a sector (the vertical) and the effective exchange (for ex.: the high value of business cards). They are looking forward to be exhibitors, but they don't want to let down the mobility they gained as visitors.

Trade shows are very positively evaluated by the start uppers.

And start uppers think Trade shows could be even better. The social dimension is the most important: meetings, networks development and introduction in the ecosystem. Results are indisputable: the trade show is an accelerator. The people targeting could yet be better. Big efforts have to be made on the editorial production. It becomes really "old-fashioned" not to be at the appropriate digital standards (indoor and outdoor). The psychological and energizing function of trade shows is important and effective.

Start-ups want trade shows able to immerse them at the closest of markets complex and rich reality.

The trade shows are not outdated, only eventually their way of proceeding. The three main fields of improvement are : more visibility and more speaking opportunities ; better mechanism to facilitate their social introduction in the ecosystems (matchmaking meeting platform, mentoring, partnerships on the editorial contents) ; a Trade show-Machine closer (more effective) to the reality through mixed forms to a more event-driven approach, high added value contents connected with sectors and markets strategies, social engagement and innovation, "lean" method to progress between event editions. The digital transformation is not the major expected improvement, it is only a minimum.

Start-ups are ready to become themselves event's organizers (if they are not already it).

Trade shows, events in their multiple forms, don't belong exclusively to professional organizers. Trade shows manufacturing technologies are, in some ways, "open source". To organize an event is also a method to handle with reality, to build its ow

n growth and life process.